Top 3 Kia Soul Questions:
Does the Kia Soul have ...?
Kia, San Antonio, TX, 78233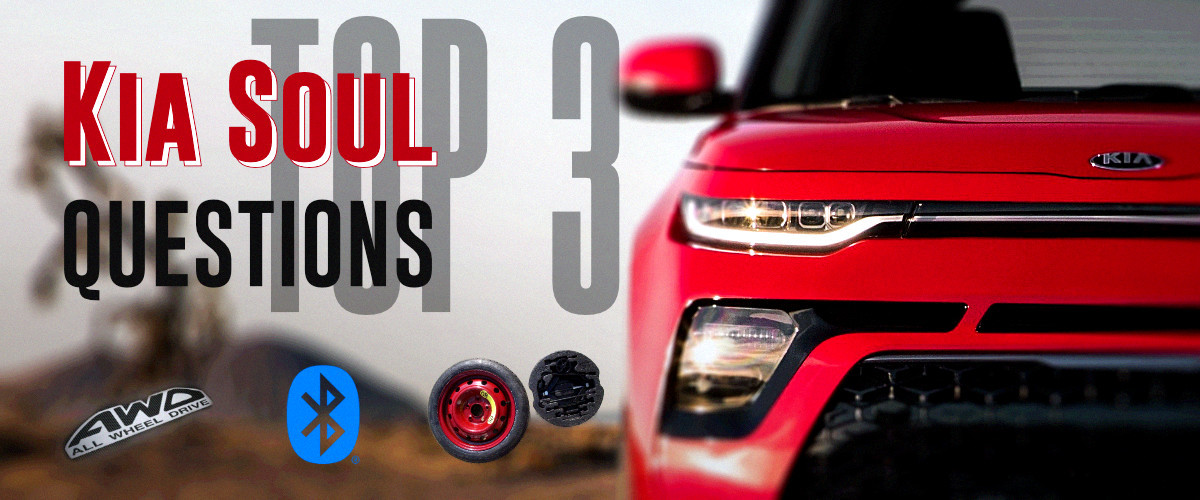 There are somethings nearly all people research about the Kia Soul before they consider purchasing one. What are they? You probably already guessed it since your reading this however maybe you aren't looking up all three of these. A simple look at if the Kia Soul has AWD capabilities, Bluetooth connectivity and a Spare Tire for when the road gets rough. Short Answer? AWD: NO, Bluetooth: YES, Spare Tire: NO. In-Depth Answer? Keep on reading!
Does the Kia Soul have AWD?
Ever since the creation of the Kia Soul back in 2010 people have been drawn to the sleek look and clean interior of the car. With all the choices of trim levels, packages and accessories it seemed strange that with all configurations through the 10 years of existence, not even one offered an all-wheel drive option. Does that mean the Kia Soul is not efficient when the road gets slick or the need arises to slam on the brakes at the last second? Of course not, if that were the case this beautiful car wouldn't be selling faster than hot cakes at the local carnival. The vehicle comes standard with anti-lock brakes (ABS) and stability control sensors which combined together makes short work of needing to brake in a hurry while giving peace of mind to the driver.
In short, the Kia Soul has never had an all-wheel drive option, all Kia Souls come with FWD only and maybe one day they will offer AWD on it but from years 2010-2020 all the Kia Souls are a simple "NO" on the AWD front.
Does the Kia Soul have Bluetooth?
We are beholden to the age of connectivity. Now more than ever it is important to have Bluetooth available when you are driving given the large numbers of distracted driving cause quite a bit of chaos on the roads. If you are purchasing a Kia Soul made within the last couple of years, you should have Bluetooth as a standard safety feature at this point. Starting in 2013, the Kia Soul started offering Bluetooth with the plus trim and up. Now it is standard on ALL trim levels!
Does the Kia Soul have a spare tire?
Having a spare tire has long been a sense of security for people. The peace of mind that comes when you see the tire pressure gauge light turn on with that heavy rounded metal and rubber wheel in the back is great. The Kia Soul does not come with a spare tire; instead you will find a Tire Mobility Kit (or TMK). The TMK comes with everything you need to temporarily get your tire working enough to get to the nearest service center.
If this is a deal breaker for you, don't worry, Spare Tire Kits are available to purchase with your Kia Soul to ensure you are taken care of, however, they are no longer the standard and have been that was for over 10 years on the Kia side. Other manufacturers have also switched to this TMK over the spare tire as it reduces the curb weight in the specs and allow for slightly better looking gas mileage on the care overall for up-front performance metrics.
All in all the Kia Soul is a good choice.
Whether you are purchasing New or Used, you are sure to find one that fits what you are wanting (aside from the whole AWD thing). If you have any more questions about the Kia Soul, we would love to answer them directly or if we get enough of the same question, we would like to make a web-page with an answer to help future Kia Soul buyers get all the information they need before even leaving their home for anything.
Don't forget, all New Kia Souls have a Lifetime Powertrain Warranty from World Car Auto Group at NO additional charge to our customers!
If you have any questions, please contact us below.